Games – Lara Croft: and the Guardian of Light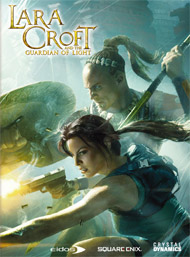 Release: 2010
Developer: Crystal Dynamics
Publisher: Eidos Interactive Ltd.
Besonderes: LCatGoL ist nur als Download-Titel erhältlich

Cover und CD Label kostenlos herunterladen

Offizielle Beschreibung:
Erleben Sie das erste Koop-Action-Adventure mit Lara Croft. Tuen Sie sich mit einem Freund zusammen oder gehen Sie es alleine an.
Sie überqueren und lösen tödliche Fallen, bekämpfen Horden von untoten Gegnern und sammeln über 60 Artefakte und Reliquien. Lara Croft and the Guardian of Light bietet temporeiche Action und atemberaubende Effekte in einer isometrischen Spielperspektive.

Screenshots:

Level:
1 - Tempel des Lichts
2 - Tempelgelände
3 - Spinnengruft
4 - Die Beschwörung
5 - Vergessenes Tor
6 - Giftsumpf
7 - Überfluteter Gang
8 - Der Rachen des Todes
9 - Drehbrücke
10 - Feurige Tiefen
11 - Bauch der Bestie
12 - Festungspassage
13 - Der Sog des Spiegels
14 - Xolotls Festung