Serie – Tomb Raider #1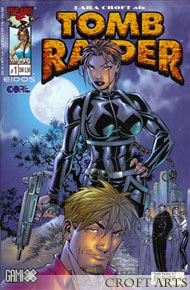 Originaltitel: Tomb Raider #13
Release: Juni 2001
Verlag: mg/publishing/
Seiten: 28
Preis: 5,95 DM
ISBN: n/a
Cover: Andy Park, Jonathan Sibal, Jonathan D.
Story: Dan Jurgens
Zeichnung: Andy Park
Tusche: Jonathan Sibal
Farbe: Jonathan Sibal
Layout & Lettering: Uwe Wallbaum, Silvia Ott
Übersetzung: Bernd Weigand
Redaktion: Frank Tuppi
Chefredaktion: Ralf Heinrich

Offizielle Einleitung:
Lara is back...
Willkommen in der wunderbaren Welt der Archäologie, des Abenteuers und der Erotik! Lara Croft ist wieder da und das im doppelten Sinne. Zum einen startet dieser Tage, allen Gerüchten zum Trotz, endlich "Tomb Raider - The Movie" und zum zweiten ist die flotte Archäologin endlich wieder in den Händen von mg publishing. Wir wollen recht gut auf sie acht geben und versprechen dem Leser genug Kurven und Lesestoff in bester Comicmanier im Comicformat zu liefern.
Dem Comic liegt ein Filmposter von "Tomb Raider - The Movie" bei.